Laser Eye Surgery In Johannesburg, South Africa
What is LASIK Laser Eye Surgery?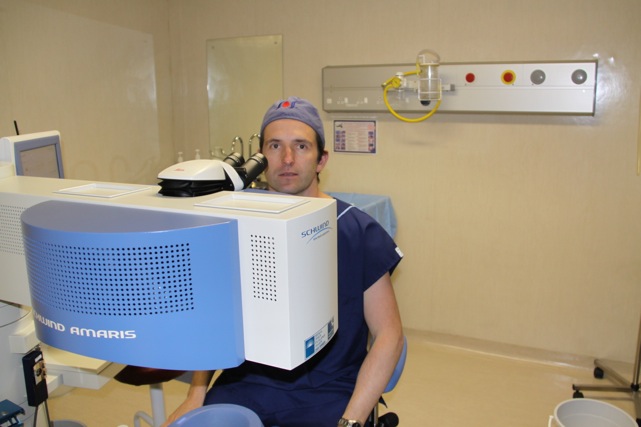 Laser eye surgery is a type of vision correction during which a laser is used to precisely reshape the cornea, providing clear vision without the assistance of glasses or contact lenses. Laser eye procedures can often correct common conditions such as farsightedness (hyperopia), nearsightedness (myopia), astigmatism and presbyopia. LASIK, Trans PRK, and cataract surgeries are all performed using a laser.
Is Laser Eye Surgery Right For Me?
Prior to performing your procedure, Dr. Guglielmetti will consult with you to assess if you are a candidate for laser eye surgery. Good candidates for these procedures are generally healthy and have had a stable prescription for at least one year. Patients who have certain autoimmune deficiencies or other conditions that impair the healing process are not good candidates.
Laser eye surgery is a great option for vision correction, and many patients experience a dramatic improvement in quality of life by eliminating the need for glasses or contacts. The results for most procedures are immediate, and precision laser technology allows for quicker recovery periods. Take the next step to a life with sharper vision and schedule your consultation with Dr. Guglielmetti today.
LASIK Eye Surgery Risks
Even if a patient is healthy and deemed a laser eye surgery candidate, there are still possible risks that should be evaluated before proceeding with any surgery. A majority of these risks are minor complications such as overcorrection and worsening night vision. Johannesburg laser eye surgeon Dr. Guglielmetti gives all his patients a detailed overview of the laser eye surgery options that suit their specific needs.
Dr. Guglielmetti has many years of experience treating cataract surgery and LASIK patients. He will take your unique condition into careful consideration in order to identify the most beneficial laser eye surgery procedure.
Do LASIK Results Last?
The results of LASIK are considered to be permanent. There is only a small chance that you may have to be retreated in order to obtain optimal results. You will have a post-surgery follow-up with Dr. Guglielmetti within a few weeks after the procedure to see if a second treatment is necessary.
Am I A Good Candidate For Laser Eye Surgery?
Healthy adults both young and old who wish to have 20/20 vision, are frustrated with prescription glasses or contact lenses, and/or who suffer from moderate to severe nearsightedness or farsightedness are the best candidates for this procedure. Presbyopia cannot be treated with corrective laser surgery. If you are not a good candidate for LASIK, you can schedule a consultation with our experts to learn more about other treatment options.
Why Choose Dr. Guglielmetti For LASIK?
Dr. Stef Guglielmetti and his ophthalmology team pride themselves on their patients' satisfaction. Every person seeking laser vision correction is guaranteed the utmost in patient care. Dr. Guglielmetti strives to stay on the leading edge of laser eye surgery and vision enhancement. He continues to participate in research aimed at furthering vision correction techniques and has made numerous medical presentations in Johannesburg, Pretoria and surrounding areas of South Africa.
Does LASIK Last Forever?
Patients expect their vision to be improved for the rest of their lives after having LASIK surgery. In many cases, LASIK results do last a lifetime, and many patients never have to use glasses or contacts again. There is a slight chance that you will need follow-up procedures to correct minor changes in your vision over time, but these revisional LASIK procedures are relatively uncommon.
Schedule Your Laser Eye Surgery Appointment
Contact us to schedule your LASIK appointment or to arrange your free refractive surgery screening. Your refractive surgery screening includes a WaveFront scan and Pentacam evaluation. If you qualify for refractive surgery, we will then schedule an official consultation.